After nearly a century and half, the places that have seen the emergence and the consecration of the Impressionist movement have become real cult places to the art loving people. So Giverny, Auvers- sur-Oise, Aix-en-Provence are now inevitable to the admirers of Monet, Van Gogh and Cézanne.
Concerning Caillebotte, Argenteuil and Petit- Gennevilliers,
where he chose to live his ten last years, have kept no trace of him, except his name given here to a street, there to a school. His dearest house has been razed to the ground around 1910 and modernity has disfigured the banks of the Seine.
Yet, a discreet and privileged place has kept Caillebotte's souvenir very much alive, and that is the family estate where he used to spend the sunny days during the first thirty years of his life, at Yerres, about twenty kilometers in the South-East of Paris.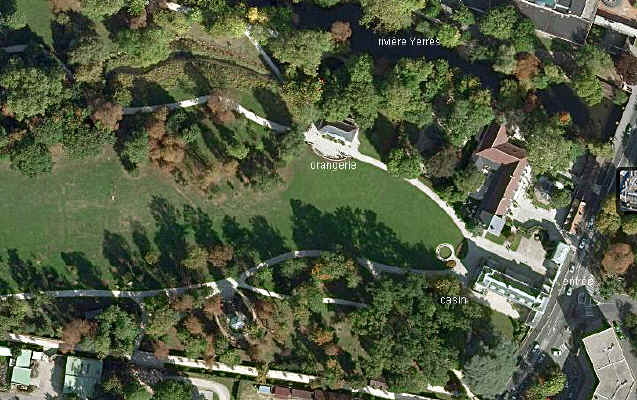 Satellite view of the Caillebotte estate in Yerres
The property now belongs to the Yerres Community, and an ambitious program of renovation and fittings has recently been completed. The "Casin" where the Caillebotte family used to live has been restored with an historic fidelity and Gustave's presence can to-date be felt in those rooms. The vast park is a magic peaceful place, the vegetable garden is rich as before and dinghies are animating the discreet Yerres River that borders the estate.
All these places have been represented by Caillebotte on the canvas : more than fifty paintings are witnessing those sunny days. Contrary to the sober-coloured and strictly composed paintings of Paris views, Yerres gave him the opportunity to embrace the happy impressionist style.
Every year in september, the National Days of the Arts give a chance to celebrate and honour the painter in Yerres. In 2006 and 2007, the highlights of those days were some tableaux vivants reproducing paintings by Caillebotte, and exhibits of copies of his works by Art- Katroz. In 2008, a new and magnificent show space has opened in the former stables, designed to accomodate painting and sculpture exhibits : no doubt this place will be very succesfull in the future !
Some actual views of Yerres and Paris
presented alongside with paintings by Caillebotte
Copies of some of Caillebotte's masterpieces
Official website of Yerres community